GUESS WHO'S BACK?
Ok. Here it is again.
We just received this pair of eye-popping photos from one of our favorite bodybuilders. Needless to say, we're as stunned as you will be when you see who it is. We'll let you guess who the owner of this jumbo jet wingspan is, but here's a clue: His last name is a staple food in an Eastern culture.
And again, here is the picture. Plus another.
RELAXED BACK


BACK SPREAD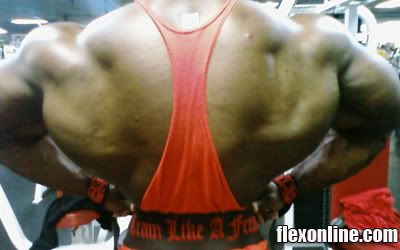 Ok. So you've waited long enough. We don't need to keep you waiting anymore. We know. Unfortunately, we have to keep writing something so you don't see this next picture when you open the blog page and find out the answer right away. We know. It's getting annoying now.
So we'll stop.
We promise.
Really.

AND THE BODYBUILDER IS .......
DRUMROLL PLEASE ....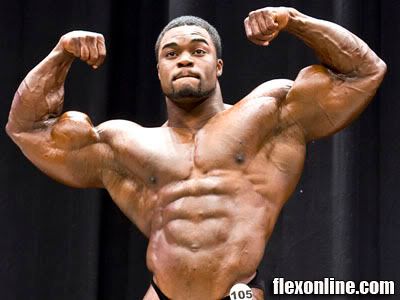 BRANDON CURRY. These shots were taken two weeks ago. Here's what Curry had to say when we commented on how much wider his back looked at the USAs and Nationals in 2007.
"I was only about 228 in those photos about two weeks ago, but currently 232 or so and still climbing. I've got 8 more weeks until I start dieting. I got a friend of mine who took some shots with his phone the yesterday so I will try to retrieve those."
For comparison, here is a back shot from the 2007 USAs. The above shot was from the 2007 USAs also.
BACK SHOT